IRMA Records expands its sync licensing horizons to the Web3 universe through integration with Dequency
The Web3 environment continues to present new opportunities for music catalogue owners to monetize their assets, and today it's time for some great news for those who are owning shares of the IRMA Records Publishing Catalogue, which is available for trading on ANote Music.
At the beginning of September, IRMA Records made a selection of songs from its music catalogue available for sync licensing on Dequency, the world's first blockchain-powered sync licensing platform.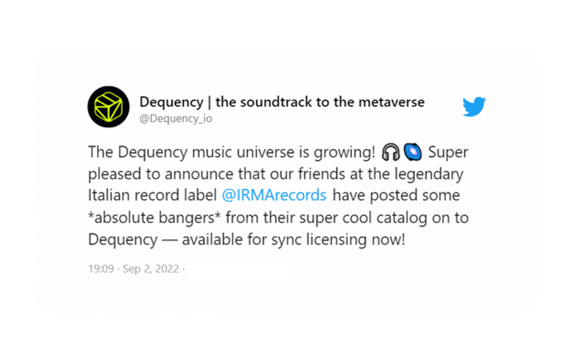 Thanks to this partnership, producers of Web3 media looking to purchase the rights to use music in their projects will be able to obtain the licenses for the available songs from the IRMA Records Catalogue, which translates in increased possibilities for IRMA's Catalogue to generate royalties from sync licensing. Following and according to the 'Listing Order', investors on the ANote Music platform are entitled to receive a share of synchronisation royalties - hence, they will also receive a portion of all the licensing fees collected through Dequency.
We are pleased to observe the first catalogue ever listed on the ANote Music platform to work with another music industry player within the Algorand ecosystem, and we are looking forward to seeing what these new opportunities will bring as positive impact on the catalogue's performance in the future.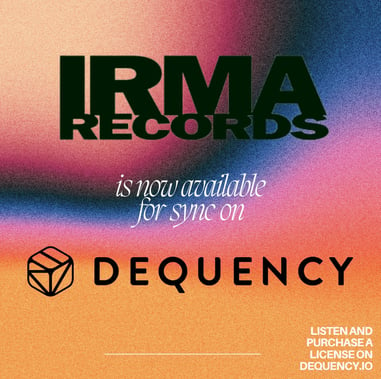 Looking to learn more about this music catalogue? Go visit the ANote Music platform, create an account or log in, and discover all financial details and relevant insights about all aforementioned assets. Click here to visit the platform.
Stay tuned!